A new feature called Smart Reply will soon be coming to the Gmail app on both Android and iOS devices.
The feature will allow Gmail to suggest a series of answers to the emails that you receive. The user can either edit the responses or send it in the form that Google suggests. Sadly, the feature will not be available on the desktop version, not immediately at least.
The feature uses Google artificial intelligence software so Smart Reply is able to scan the content of the email and attempts to understand the units in terms of their importance.
Google claimed in a statement that Smart Reply is capable of learning your writing style and therefore the replies that it suggests will reflect that.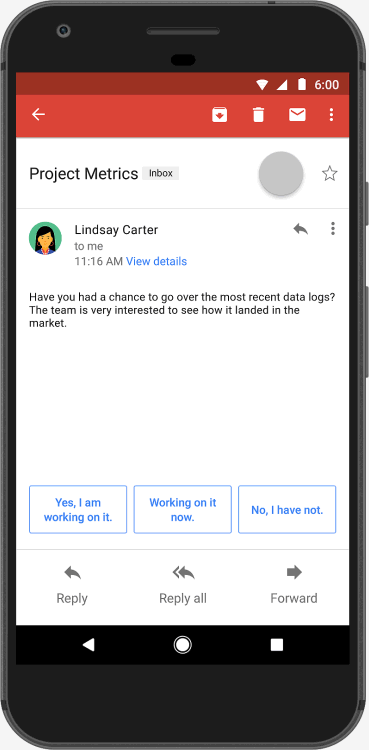 Smart Reply won't work on all emails, though.
A Google spokesperson wrote, "Smart Reply works on emails that it can suggest optimal responses to, based on its analysis of a large, anonymised body of other emails."
Some of Google's other apps and features already offer something similar such as the email app, Inbox and Google's AI assistant, Allo.
Google said 12% of replies on Inbox were made by the app and it was because of this that they decided to introduce the feature on Gmail.
AI is still in its infancy so whether Smart Reply is intelligent enough to be useful remains to be seen.
The news come after Google announced it would be making Google Assistant available on iOS.