The days of having to physically type an email are coming to an end.
This week, Google unveiled a new feature that promises to save you time by writing emails for you.
The new 'Smart Compose' use artificial intelligence to compose emails from your Gmail account on your behalf.
The feature is a follow on from Smart Reply which first appeared in the Gmail app last year.
Smart Reply offers up three automatic options for replying to an email.
Smart Compose works by offering up suggestions as you type an email. If you like the suggestion just hit the tab button on your keyboard and the suggestion will be added to your email.
The feature works in the background so you can choose to ignore all the suggestions and just type an email as you would normally.
However, the more you use the feature, the smarter it gets as it learns your writing style.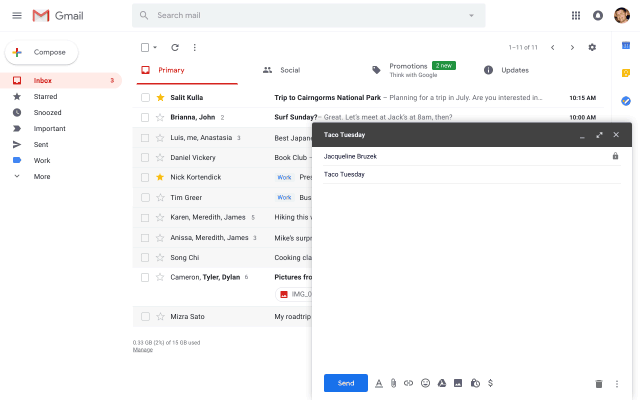 "Email makes it easy to share information with just about anyone—friends, colleagues and family—but drafting a message can take some time," Google said in a statement.
"Today, we're announcing Smart Compose, a new feature powered by artificial intelligence, to help you draft emails from scratch, faster."
Google says Smart Compose will help to reduce grammar and spelling mistakes.
The feature isn't yet available to everyone but will be rolling out to users within the coming week, Google said.
When the feature is available you will see a prompt appear under the settings tab that reads "try the new Gmail".
Under General select "experimental access". If you don't like the feature untick the box.